♥♥♥♥♥♥♥♥♥♥♥♥♥♥♥♥♥♥♥♥♥♥♥♥♥♥♥♥♥♥♥♥♥♥♥♥♥♥♥♥♥♥♥♥♥♥♥♥♥♥♥♥♥♥♥
A recipe for love….
Take two full time nursing jobs at two different place mix in a house to run, add a little crossfit of an evening with a sprinkle of helping the other half with his business when I can chuck in a heap load of allergies and intolerance place into a big bowl and poof! doesn't leave much time for date nights.
So when I was told to "dress up were going out" the other week I was happy needless to say. The restaurant of choice The Chime in Hartford, Cheshire. I have driven past this place many a times but never been in and kinda always wanted to.
The history….
Now if you don't know Hartford its a very small little village in Cheshire there's not a huge amount of shops or bars but what they do have are lovely. The Chime is no exception to this. The build is connected to the history of Hartford and has the bell for the fire station on the external wall, hence the name The Chime.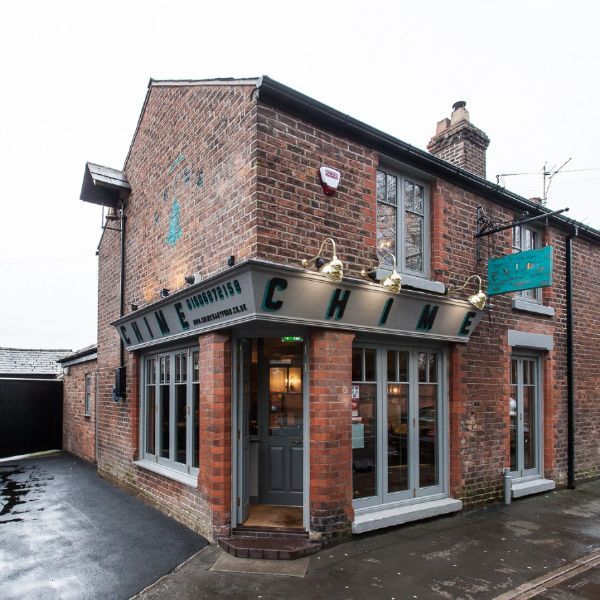 So with all this history floating around outside and the Chimes tasteful modern interior inside, the mix is beautiful chic little restaurant.
Now, word on the street is that The Chime's menu is suitable for almost everyone, as a few of my friends with and without allergies have been before and have raved about it. So why not give it a go.
The prep….
As the good little food prepper I have become I went onto there website first to see if I can eat here (not like I don't trust my friends, just to double check!) and I can. There website is very easy to navigate and there menu's on there are downloadable and very easy to understand.
As The Chime is quite a small building you really do need to reserve a table especially if you are wanting to eat of an evening at the weekend. We kinda left it a little to late and was only able to get a 9pm slot on a Friday, which is a little late for me but hey ho suppose it is a date night.
To reserve you can call or use the website, I chose the website and it was really easy to use and they send you an email to confirm your booking.
The night….
Now when someone says to me dress up I think sequined evening gown and tiara should cover it, but not wanting to embarrassed the other half and slipped into my best jeans and off we popped.
Due to Hartford being a little village there's no actual parking right next to The Chime but there's a perfectly good car park just a few seconds walk down the road on the opposite side. Not hundred percent so don't quote me but I think its a 3 hours max stay, just check on arrival.
On arriving at Chime we were greeted by lovely staff who booked us in, we were a little early so we waited in the bar downstairs and ordered our drinks. The bar downstairs was a little small for my liking, I kinda felt like I was sitting on the knee of the lady behind me and people had to brush past you to get to other areas of the bar. However, the atmosphere was warm, welcoming and beautiful decorated.
We were shown upstairs to the restaurant when our table was ready and once again a beautifully decorated area, with the most adorable dog pictures. However, it was squishy! My other half had to sit next to be rather than in front due to space, as he would have been sat in a lady handbag otherwise.
We were booked in at 9pm and it was still full ish, must be a good sign though I suppose.
We sat down and it's one menu for all, which I love! There's nothing worse than being handed a scrubby old folder to look through instead of an actually menu.
There was a really nice selection for a person with my mix of allergies, intolerance's and food choices which is so refreshing to see. It was a toss up between the lentil shepherd pie or the mushroom and chestnut risotto……I went for the lentil shepherd pie.
The wait….
We had our drinks, we were sat in a lovely space however we were very hungry. Unfortunately, apart from olives, which I hate, there are no starters for anyone with a gluten allergy. So we just ordered our mains.
Also, once again we cant have any chips. Honestly, these restaurant half know how to annoy a good northern girl, stopping her from her chips addiction!
Now I understand the place was busy and that obviously we would have to wait a bit for food but unfortunate we had to wait almost an hour which we both agreed was a little to long especially as the restaurant only had a small amount of tables to serve.
Anyways, we waited and once our food arrived we tucked in. The wait staff were lovely, me being me had to question a few things and they were right on it asking the chefs and kitchen staff.  My lentil shepherd pie arrived in a lovely little tin with a side of pickled cabbage. That's where the questions started.
I was told unfortunately I can not have pickled cabbage because its pickled in malt vinegar and its not gluten free, but the chef stated that it was pickled in red wine vinegar and totally suitable. So I dived in. However, on tasting it, to me it seemed like it contained more than just cabbage. I think it had star anise in it which, no surprise, i'm allergic to. But, by that point I was to tired and hungry to go ask the wait staff again to go back and investigate, so I just left it and ate my pie.
I do wish however, that restaurants made people aware of any hidden surprise that might be in food as herbs and spices can be allergies too.
The pie….
I love lentils! Bloody good job to as they feature in most vegan meals 🙂
The pie was a good size, and accompanied by the cabbage made a good sized meal.
It tasted beautiful, the mix between the warming vegetables and the sweet potato mash was lovely, and if you can add the sharpness of the cabbage it would be a beautiful mixture. I can not tell people how happy I was to look at a menu and not see the gluten free options is halloumi salad or a curry based dish. To sit at a restaurant and have several option all which sound amazing and taste lovely its a winner. Was it worth the wait thought?
Not sure to be honest. Taking in the whole evening, the restaurant itself being somewhat on the squidgy side and the hour long wait when it was not even full kinda puts me of a little. I like to be able to relax and sit comfortably whilst enjoying beautiful food and unfortunately I couldn't do that to well at The Chime. However, seating aside the food was delicious, beautifully cooked and presented and totally accessible for those with allergies, intolerance and specific food choices. So…..I suppose I probably would go back again and eat there, maybe in the day or of a weekday evening as that mushroom and chestnut risotto is calling my name!
Date night completed ♥